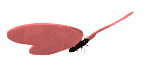 I had a really neat experience this past Saturday. It was one of those moments that was short and simple, yet had a long lasting impact on me. First and foremost.. I have struggled with my faith lately. I have been through a lot of pain lately... that I think just wore me out.. took away color, and light in me. It isn't all gone.. there are shimmers.. and it is the shimmer that felt this moment and held on to it. My sister came into my room as I was sleeping.. and wanted me to feel her pregnant belly.. to see if I could feel Tessa moving and kicking there. First, it touched me that I had that opportunity... and second I remembered at that moment the beauty of life... I thought about my niece Tessa.. as I touched my sister's belly. :>) Inside she is scrunched up, gooey, wrinkly, and it's dark. But, soon she will be in the light, beautiful, smooth, warm....light. I thought of a butterfly and how it starts out the same way... from something scrunched up and ugly, a catapillar..... to a beautiful butterfly. At that moment, because of my sister and little Tessa.. I remembered that ugliness and pain... bring beauty.... it just takes some time...I forgot this. Thanks Stace and my little Tessa for reminding me. I am so excited for Tessa to come.... I know my little butterfly has many more things to teach me and remind me about.. until then..
"Observe
The faith of a caterpillar
That never questions "why".
Behold
What a homely worm
Becomes a butterfly."
~~Mildred N. Hoyer